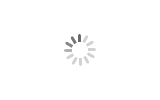 5 Tons per Day Flour Milling Machine
Brand Golden Grain
Product origin China
Delivery time 7 Working Days
Supply capacity 100sets/month
1. This flour mill machinery is a commonly used equipment, mainly used to grind wheat and corn

2.The flour milling machine is an automatic feeding equipment with high work efficiency, suitable for small-scale flour mills and flour processing workshops open to the outside world

3.The flour milling machine has mature technology, simple structure and smart design.
5 Tons per Day Flour Milling Machine
5 Tons Per Day Flour Milling Machine
Product introduction
5 Tons per 24 hours flour milling machinery is good choice for small scale corn flour milling plant and small wheat flour milling plant.
This flour milling plant is a small type wiht capacity 150-200kg/hour. The advantage is small in size, little investment, and working nicely.

Working process: raw grain cleaning—automatic feeding—raw materials enter the mill—grinding—skin core separation-discharging.
1. After the raw materials are cleaned and fried, the crusher crushes the raw materials, and transports them into material inlet.
2. The materials are sent to the mill through the conveying pipeline.
3. Bran and impurities come out from one port.
4. The flour is brushed and sieved by a round screen.
5. The process will be repeated 4 times automatically.
6. Finally, finished product comes out from another port.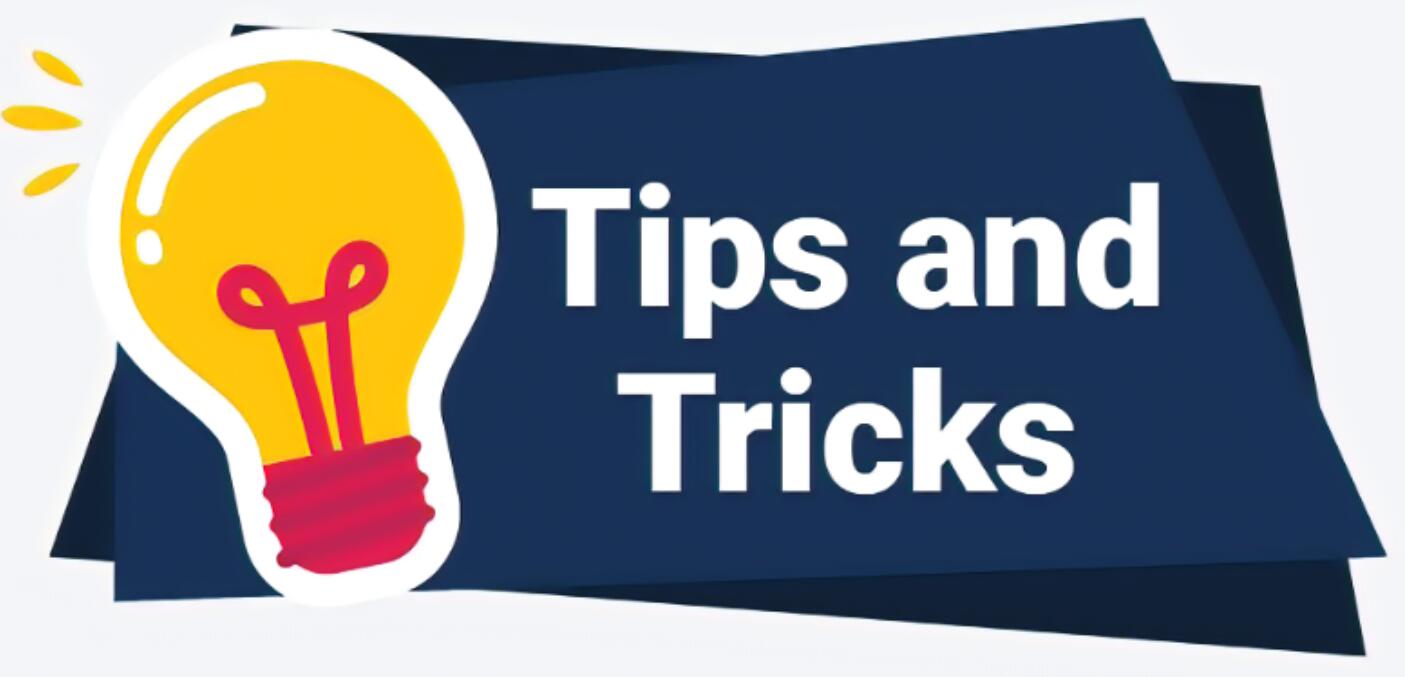 Because the characteristics of corn and wheat are different, the processing flow is different, and it is designed according to customer requirements. Processes vary depending on the types of raw grains processed, so it is best to inform the raw materials in advance. The thickness of flour can also be selected by customers, generally from 30mesh to 120mesh.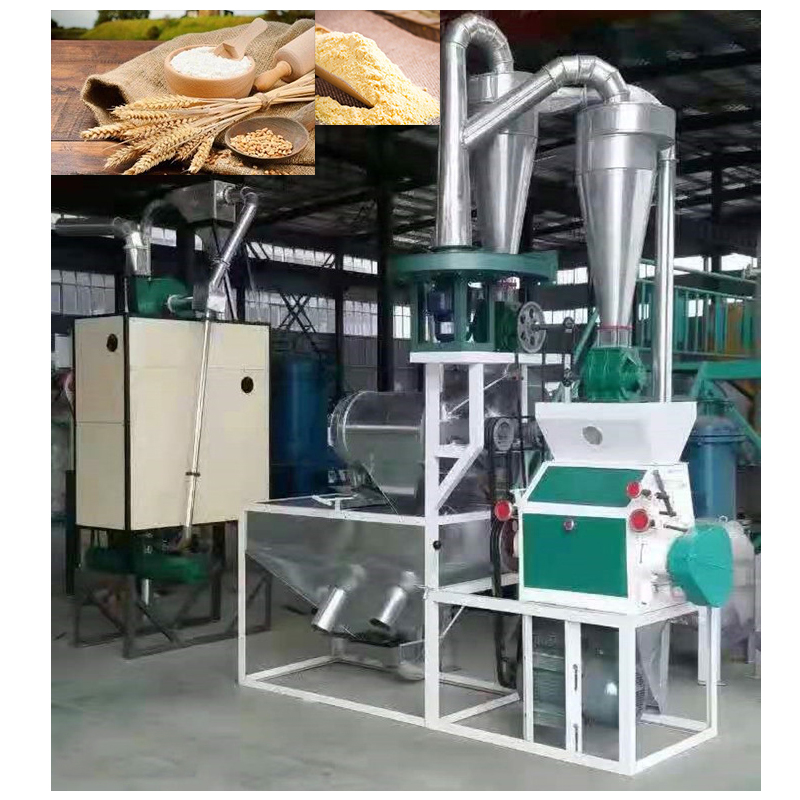 Show details
This flour mill machinery is a synchronous belt model,full-angle painting of the frame.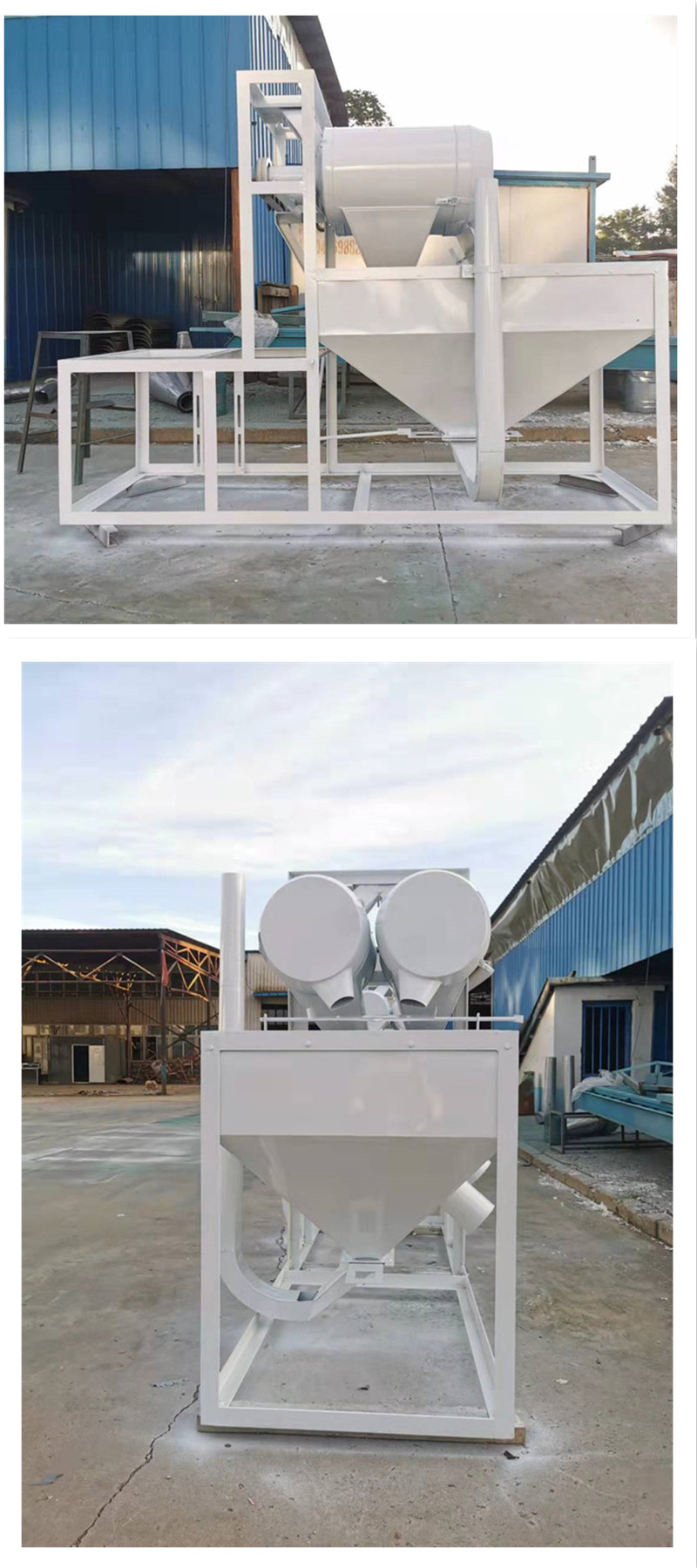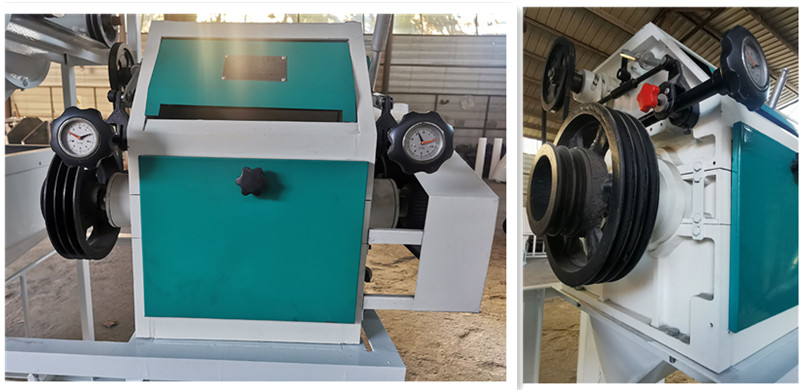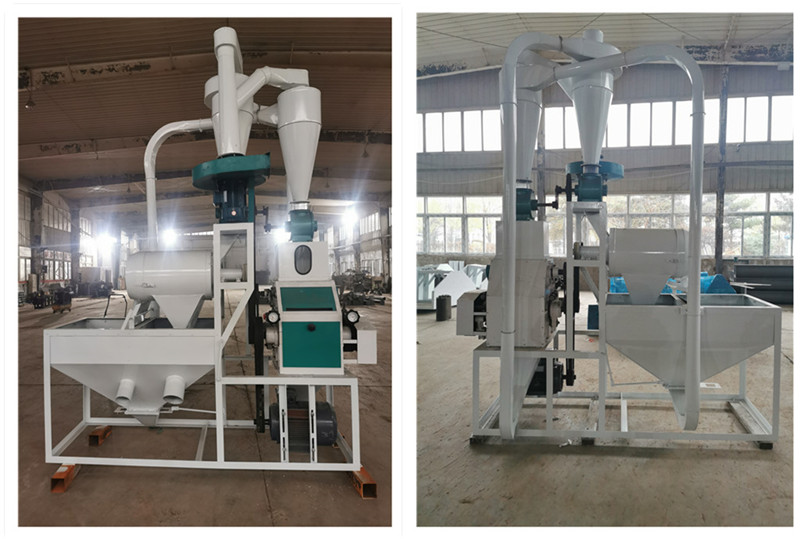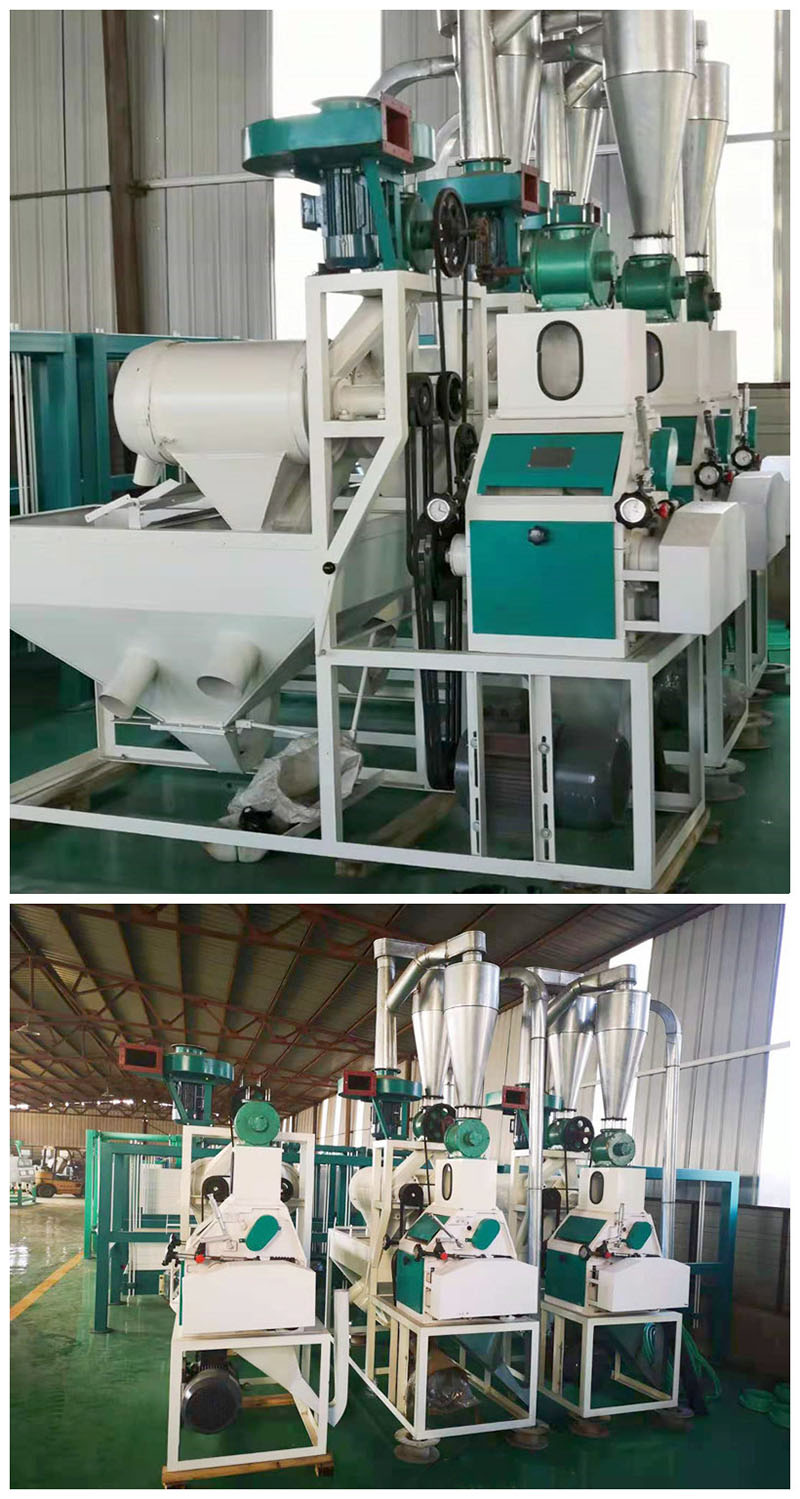 Product parameters
Name

5TPD Flour Grinding Machine

Brand

Golden Grain

Condition

New

Production capacity

5 Tons Per Day

Motor power

32.5 KW

Automation

Fully automatic

Usage

Grind flour from wheat, rice, corn, soyabean, yellow peas, etc

Usage scope

food processing plant

,flour milling plant

Overall size

6m*4m*3.5m

Final flour fineness

40-160 mesh

Quality assurance

one year

Net weight

3000kg
Prodcut features and application
Mature technology

Simple structure

Smart design

Have wide rang of application in grinding wheat,corn,sorghum,coca,coffee bean,pepper,medicine and other particle substance.

The skin and flour come out from two outlets respectively, making the flour more pure, cleaner and of better quality
Packaging & Delivery
1. We will pack all single machine with the plastic film.
2.Fix the machine on the container for the safety of long-time transportation of goods.
3.Some special unit will be putted into the box to avoid any damage or missing.
4.Small parts will be putted into the bags, boxes or make special packaging.
5. According to customer requirements, each product is labeled with name and quantity.
Our cooperation with foreign clients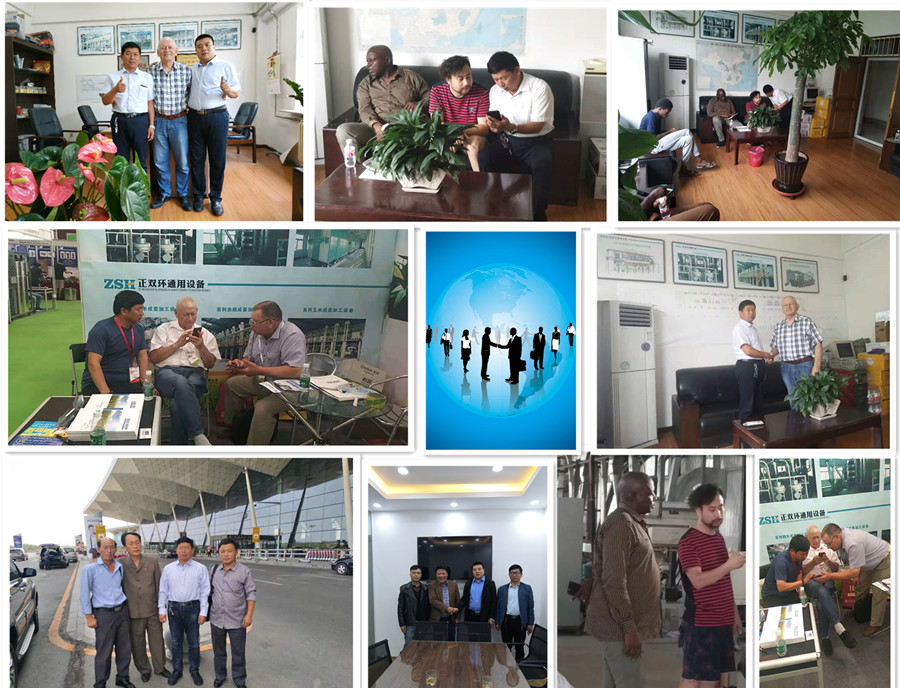 If you have any questions, welcome to contact us!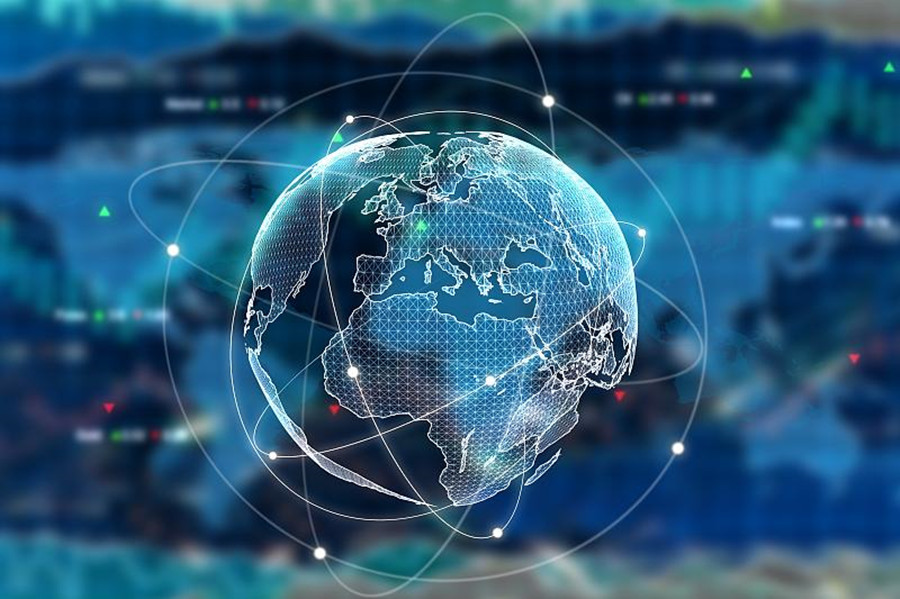 Company information
Liaoning Golden Grain Grain and Oil Machinery Co., Ltd(Formerly known as Zhengshuanghuan General Equipment Manufacturing Co.,Ltd)was established on August 30,1992 in Shenyang, China.
Our company has nearly 30 years professional experience in manufacturing Grain Machinery,the main products includes :Maize Milling Machine,Rice Milling Machine,Wheat Flour Milling Machine,Sorghum Milling Machine,Millet Milling Machine and Oil Refining Machine.
Factory covers an area of 20000 square meters, 6000squrare meters office building area,owns high quality standard heavy industrial production workshops.Employees includes medium and senior professional management personnel, engineering technical personnel and professional foreign trade team sales staff.
We design products according to customers' specific requirements with carefully installation and technical training. Products have been exported to many countries such as:Russia,North Korea. Viet Nam, Nigeria, South Africa, and Southeast Asia. We are willing continue to expand our business around the world.