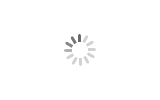 Color Selecting Machine
Brand Golden Grain
Product origin China
Delivery time 3-7 Working Days
Supply capacity 100pcs/month
1.The high performance CCD camera, double-sided high-speed acquisition and scanning, combined with specific image analysis and processing software, can process software more quickly and accurately, and can quickly and accurately identify micro yellow, yellow water, disease spot and other poor micro particles.

2.The modular design is adopted, the circuit is simple, the anti-interference ability is strong, and the system operation is more stable and reliable.

3.The professional high-speed electromagnetic jet valve has fast response and stable operation, which can not only accurately blow out bad particles, but also ensure the best ratio of output.

4.The delicate and compact open structure is reliable and firm, and the operation interface is more humanized and the use is simple and flexible.

5.For soybean, sunflower kernel, melon seeds and other miscellaneous grains have professional.
Color Selecting Machine
Color Selecting Machine

Production introduction
Rice color sorter machine has super data transmission and processing technologyProfessional image processing CPU and high speed circuit design with high frequency, which substantially improves the speed of image processing and color sorting accuracy.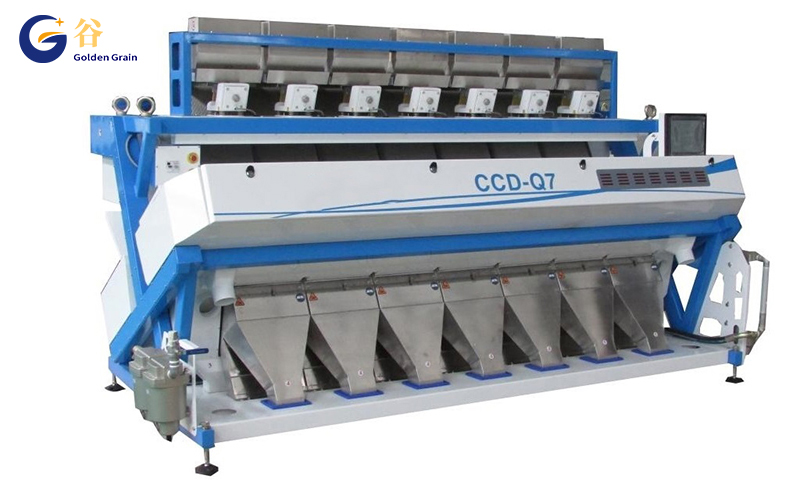 Product Parameters
| | | | | |
| --- | --- | --- | --- | --- |
| Type | MCS 160 | MCS189 | MCS 256 | MCS320 |
| Number of channels | 160(128:32) | 189(128:64) | 256(192:64) | 320(224:96) |
| flow | 2-5 | 2.5-5 | 3-6 | 4-7 |
| Sorting accuracy | >99.98% | >99.98% | >99.98% | >99.98% |
| Optimal band out ratio | <1:0.125 | <1:0.125 | <1:0.125 | <1:0.125 |
| Main engine power | 2 | 2.3 | 2.5 | 3 |
| Gas pressure | ≥0.6MPa | ≥0.6MPa | ≥0.6MPa | ≥0.6MPa |
| Gas consumption | 500-800 | 600~1000 | 800~1200 | 1000~1500 |
| Machine weight | 950 | 1050 | 1050 | 1100 |
| Dimension | 1710x1060x1940 | 1710x1060x1940 | 1710x1060x1940 | 1710x1060x1940 |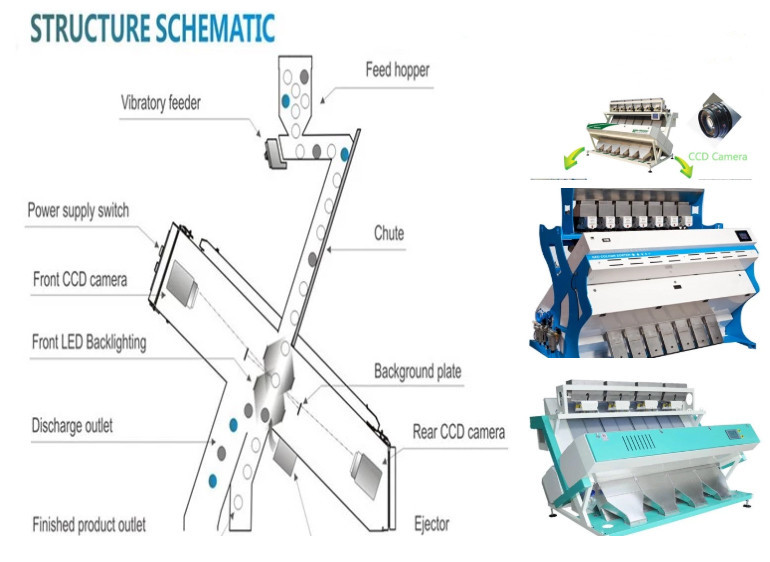 Product features and application
Top 2048 pixel high-speed CCD sensor with high brightness LED light source has strong image resolution and high recognition rate.

High brightness LED light source, high brightness, long life (more than three years), stable luminescence, meet the requirements of high precision, large output color selection light source.

It has the advantages of fast opening speed, accurate control, no tailing, high rejection accuracy, low output, low gas consumption and large output.

With heating function of large chute, the surface of the special treatment, smooth wear resistance, ensure high precision.

The well-designed user-friendly operation interface is highly intelligent and powerful.

Adopting international famous brand parts, cooperating with advanced production technology, improving optimized circuit design, greatly enhancing system reliability.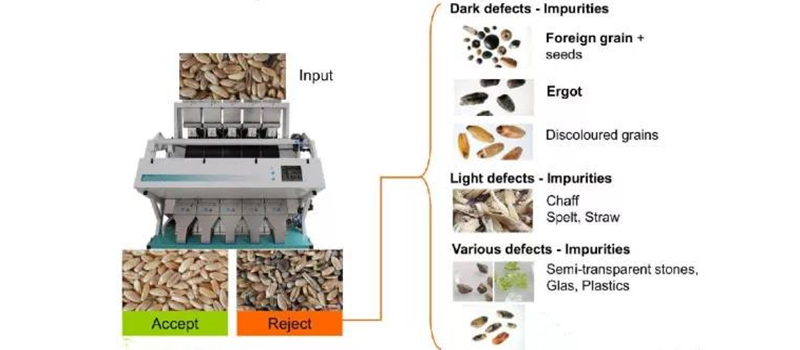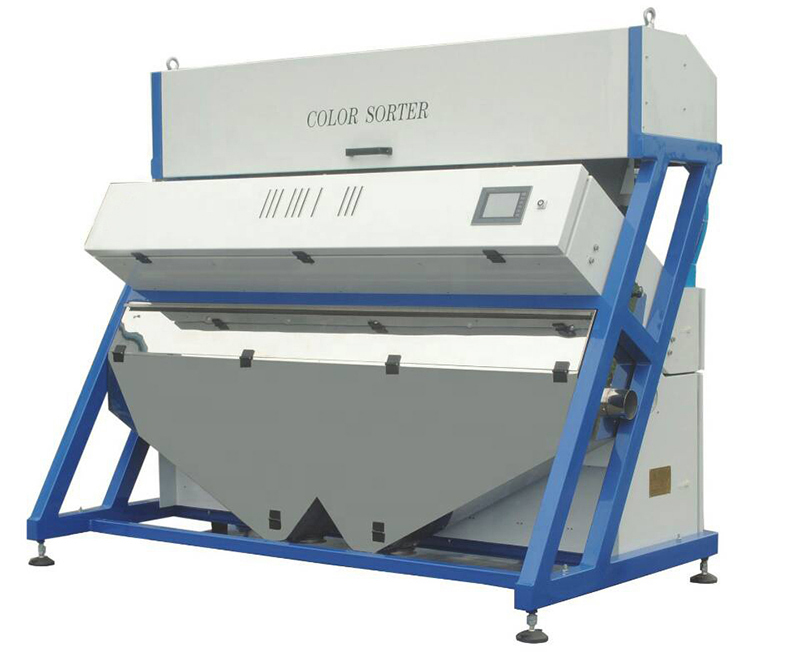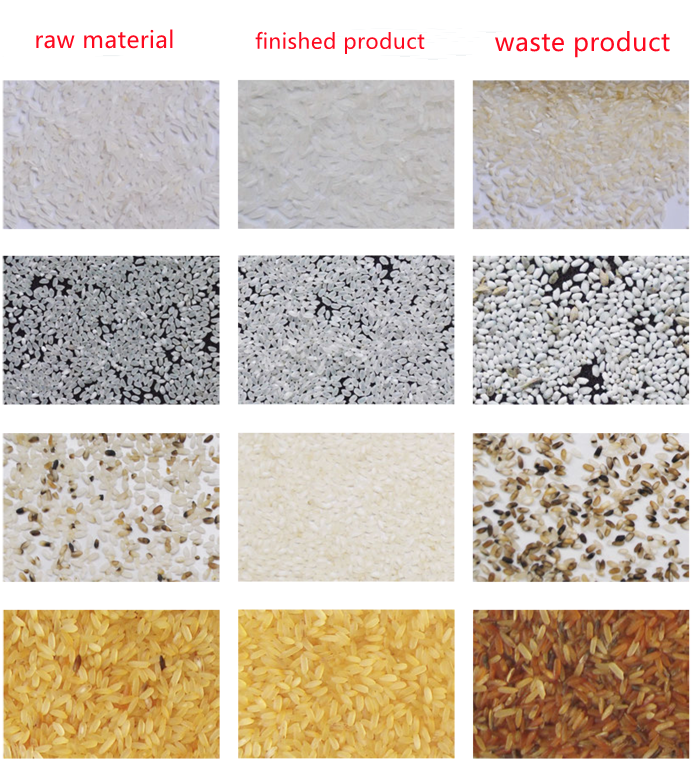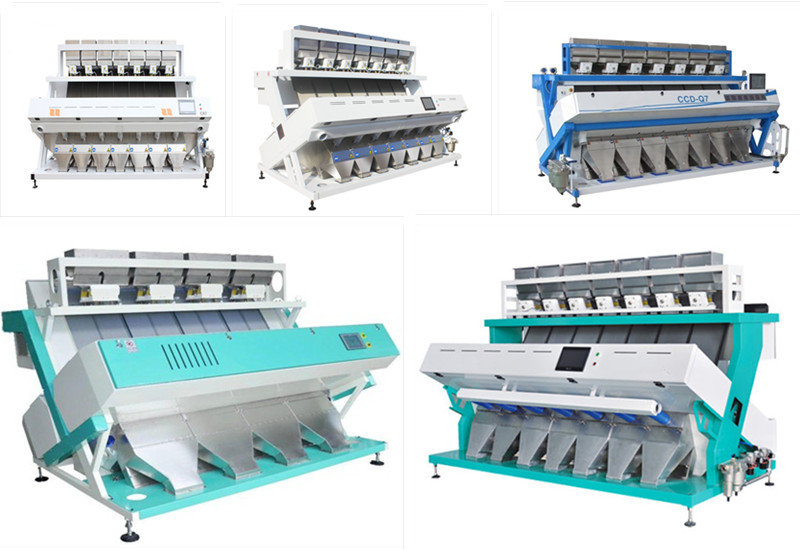 Engineering case
Packing&delivery
1. We will pack all single machine with the plastic film.
2.Fix the machine on the container for the safety of long-time transportation of goods.
3.Some special unit will be putted into the box to avoid any damage or missing.
4.Small parts will be putted into the bags, boxes or make special packaging.
5. According to customer requirements, each product is labeled with name and quantity.
Our cooperation with foreign clients
If you have any questions, welcome to contact us!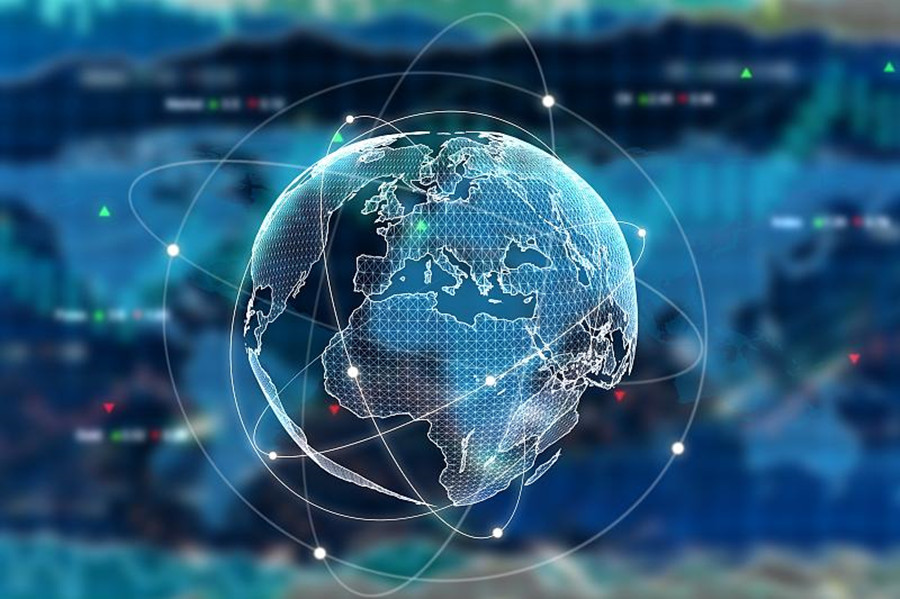 Company profile
Liaoning Golden Grain Grain and Oil Machinery Co., Ltd(Formerly known as Zhengshuanghuan General Equipment Manufacturing Co.,Ltd)was established on August 30,1992 in Shenyang, China.
Our company has nearly 30 years professional experience in manufacturing Grain Machinery,the main products includes :Maize Milling Machine,Rice Milling Machine,Wheat Flour Milling Machine,Sorghum Milling Machine,Millet Milling Machine and Oil Refining Machine.
Factory covers an area of 20000 square meters, 6000squrare meters office building area,owns high quality standard heavy industrial production workshops.Employees includes medium and senior professional management personnel, engineering technical personnel and professional foreign trade team sales staff.
We design products according to customers' specific requirements with carefully installation and technical training. Products have been exported to many countries such as:Russia,North Korea. Viet Nam, Nigeria, South Africa, and Southeast Asia. We are willing continue to expand our business around the world.